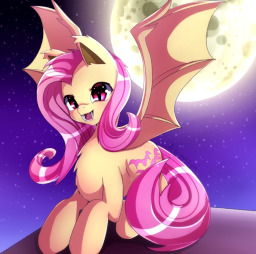 Source
This story is a sequel to Path of Kindness and Blood
---
As written in prophecy, after a thousand years of banishment, the two faced princess shall return and change the world. Pureblood thestrals and their clans are awaiting her return, ready to support her.
Fluttershy, the decades old pureblood thestral, sought refuge in Ponyville after death of her parents. She's faced many trials and hardships while forging many friendships and forming a small clan of her own.
Now, as the night of the two faced princess's return is dragging near, it is up to the young pureblood and her friends to face her. Will they help Luna to surface and convince her to lead thestrals down the road of peace, or will they fail and Nightmare Moon will lead them down the path of conquest?
To make matters worse, Moon Shadow, the most powerful pureblood, may have plans of his own.
List of proof-readers:
7th Outpost - Prologue
EternityFlame - Prologue, chapter 1 part 1 and 2
LeprechaunPoni
Ankaru - Prologue
Fistfire
Word Worthy
Pre-reader:
Feather Note
Chapters (24)