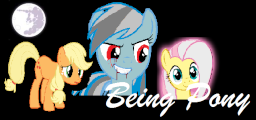 What happens when you put a vampony, werewolf and a ghost all under the same roof among an unsuspecting Ponyville? Twilight Sparkle is determined to show Equestria that what goes 'bump in the night' deserves equal rights to ponies, too bad they don't believe in those old pony-tales.
Can a vampony, ghost and werewolf residence really work, especially when there are hunters among them that have dedicated their lives to eradicating all things supernatural? With blood lust, blood pressure and general social interaction being a factor, can they really do it? Or was this plan destined to fail the moment is was concocted?
Loosely based off of the ideas from the UK Drama 'Being Human.' No prior knowledge of the show is needed to enjoy this fic!
Chapters (2)