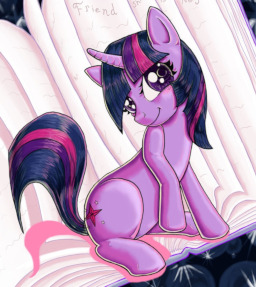 Source
This story is a sequel to Nightmare Moon's Tiny Adversary
---
Twilight Sparkle is a one-kilogram pony, shrunken by Princess Celestia following her entrance exam to the Celestia's School for Gifted Unicorns to ensure that her power surges would not pose a danger to the ponies around her.
She's spent thirteen years full of hard training at her new size, facing the life-threatening experiences that came with living in a world of giants. To survive those thirteen years of hardship and joy, of learning and adventure, and of pride and humility, Twilight has challenged herself to become stronger, to overcome any obstacle.
After defeating Nightmare Moon with the help of her friends and the princesses, Twilight is ready to start a new chapter of her life in Ponyville. What kind of secrets and surprises await the little but powerful unicorn? Will this eventful town survive such an unpredictable citizen?
List of editors:
Top editors:
Nagel+Navari
Kydois
Georg
Plainoasis
Zecora lines editor:
Discord_Lexia
Luna lines editor: (helped a lot with old Equestiran)
bahatumay
Rated+Ponystar
Pre-reader (pointing out issues and giving suggestions how to improve the story):
Skydrake
Rated+Ponystar
Seconary editors:
lucia+merinero
Solstice+Shimmer
HeartLinda
tana1100
Pump+It+Up - some of Pinkie Pie's setences
If I forgot to add someone due to a long time that has passed, please PM me.
Chapters (45)