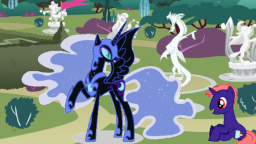 Source
A thousand years ago the princesses both had a devoted pupil. A special spell had been placed upon these students by those loyal to them. If ever a princess should be incapacitated, than the spell would place that princess's student into stone until the princess regained their position. When this spell was originally created, it was merely thought to be a method of keeping the student under the control, it was never thought that one of the two princesses would ever actually be incapacitated, that is until princess Luna was banished to the moon.
All comments welcome. Suggestions are even more welcome.
Also available on Fanfiction.net if you prefer it.
Chapters (10)