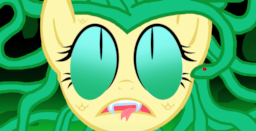 We all know how the story goes. About how Twilight found and united the Elements of Harmony and defeated Nightmare Moon, preventing the world from going dark and giving Luna a chance for redemption.
However, what if one of the Mane Six hadn't been a normal pony but a monster that was shunned and feared by others? How would the story have gone?
Follow us now as we tell the same story, only this time Fluttershy, the Element of Kindness is not a normal pegasus, but instead is a gorgony. A creature with snakes for a mane and can turn any creature to stone with a glance.
---
Out of all the mythical creatures I have read about my top favorite are vampires and gorgons. So I was greatly dismayed when I saw how few stories there were that had actual gorgon ponies in them, here on FiMFiction. Thus I decided to write this little fic. I hope you all enjoy.
While I only intended to cover the first two episodes of the show (the pilot episodes), if enough people are interested I may try to create some more stories with Gorgon-shy based around other episodes in the series.
---Credits---
Proofread by: Nadus
Edited by: Nugget and Link4
I ended up writing this story for the Augest Longfic contest, hosted by: SPark
This story is a part of my: Gorgony-Verse.
The cover art is something I created using GIMP.
Chapters (1)