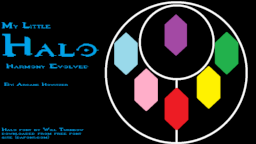 When a supposedly-Forerunner artifact activates on-board the UNSC Guam, turning everyone on board into ponies, It sets in motion a clash of forces, ideals, and dimensions that could save humanity in its darkest hour, or doom the peaceful land of Equestria to burn in a war never meant for them.
This story starts some time before the season 2 finale, but after the other episodes of season two. Season 3 stuff will only be used if I find a reason for it/don't think it's OP (I'm looking at you Twilicorn and Mirror Pool.)
This story also takes place before Halo: Reach, so don't expect things to stick very close to the games.
Minimalistic cover art was made by me in Microsoft Paint, because I have buck-all else to work with.
Character tags will be added as they become major players.
Obligatory Disclaimer: My Little Pony Friendship is Magic is owned by Hasbro. Halo is owned by Microsoft (or some sub-company thereof). I have no stake in either and seek no profit from this work. This is purely a fan creation.
Chapters (21)