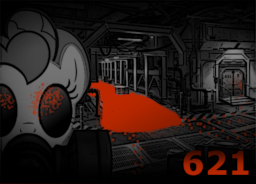 This story is a sequel to Abandoned by Pinkie
---
A month after his adventure into the abandoned park Neon Lights tries to uncover a few more of the Cheesy Pie Corporation's secrets from the safety of his computer. Using his blog Neon Lights will attempt to talk to other ponies about rumors revolving around the bizarre company and have to shuffle through them to find all the facts.
However, even from the safety of one's own room the unraveling of secrets can be dangerous and old wounds can be opened.
---
Based slightly off the creepypasta: Room Zero, the sequel to Abandoned by Disney.
Edited by: PrinceUniversa
Cover Image was made in GIMP.
Chapters (1)