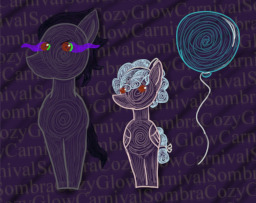 As part of a teambuilding exercise, the former darklord, Sombra and Cozy Glow go to the carnival. While Sombra is initially unamused by the endeavor, this changes as he learns a little bit more about Cozy.
What sort of crazy things will these two get up to?
---
Done as part of an art/story trade with Princeling.
Proofread by: NiCkY.
Preread by: Furious Thestral.
The cover art is just something fun that I made in my spare time.

Chapters (1)