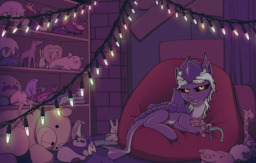 You are a pegasus stallion who has been living in a Pony Accommodation Containment Shelter (PACS) for your whole life, serving as a member of the maintenance crew. When something goes wrong with the facility, you are forced to go to the surface in order to save everyone you've ever known.
Now you're stuck on the surface, in an ashen wasteland filled with raiders and monstrous ponies. Do you have what it takes to survive?
---
Please note that while this story does have the [Violence], [Death] and [Gore] tags, my intent isn't to make anything too descriptive. There is blood and some fighting going on but unless it was something I felt was necessary for the story, I didn't go overboard with it.

---
Proofread/edited by: Brony1337.
Preread by: Viper Pit.
The AMAZING Cover Art created by: JodTheCod.
Peacock Melody was created by: Hotel Chicken.
Thank you all for helping me with this story.

Also thank you all for reading this story. If everyone enjoys it than I might actually write more in this series (I would love to write more, please like the story

).
Chapters (3)