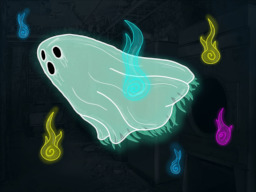 You are an earth pony mare, who serves as a paranormal investigator... or so you claim. Despite what you tell others, the truth is that you are a con artist, but that's fine. Ghosts and specters, they aren't real... right?
Here in the city of Neo Trotkyo, Neighpon, spirits are a part of the accepted culture, meaning there are plenty of gullible ponies whose bits are ripe for the taking.
Well, after accepting a job from a new client, you opinion on the matter might change. What could possibly go wrong in an abandoned love hotel?
---
I had some ideas that I wanted to experiment with when it came to my monster mare story ideas, so this story is kind of a combination of those ideas.
Contains: slight suggestive themes, a Japanese themed setting, ghosts, spooky situations/atmosphere, youkai themed monster mares, tentacles, slimy situations involving said tentacles, symbiosis... with tentacles.
What more could you ask for.
For the characters using the Other tag, here is a list: Chocolate Sun, Blossom Burst.
---
Proofreader/editor:Brony1337
Prereader(with some proofreading): Milk and Honey
Cover Art: by your's truly.
I hope you all enjoy the story.

Chapters (2)