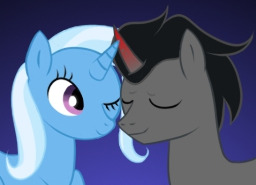 It has been a year since Trixie accidentally teleported herself to Tartarus and now it is time for her to return to the City of Cages. It has also been a year since both Sombra and Trixie met and now it is time for them to reunite.
We follow both Trixie and Sombra as the two love birds reminisce on how they met and catch up after being away for so long, but something appears to be getting in the way. Will a friendship journal get in the way of their love life, or will they be able to figure it out together?
---
AU Note: It should be noted that this story is takes place in an alternate universe where King Sombra didn't get vaporized by nuclear beams of rainbowfied friendship and instead was forced to work as the warden of Tartarus. This story may or may not be loosely inspired by the Greek myth of Hades and Persephone.

WARNING!!! This story contains: Suggestive content, a crack ship between two of my favorite(ish) characters, Trixie x Sombra, Starlight x Sunburst, suggestive themes, a reimagined Tartarus, worldbuilding, shadow magic and tentacles, a ponified version of an EQG character (guess who

), siren, sadly no tacos, and pomegranates.
This story was for the: Early 2022 Crackship Contest.
Credits:
Chapters (1)