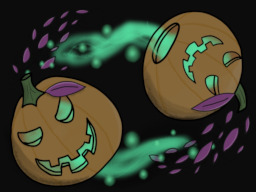 This story is a sequel to Don't Lose Your Head...
---
Returning home from a long trip, you're surprised to stumble upon your friends, Flash Gloom and Gash Bloom. Upon meeting the two dullahan twins, they invite you to play a fun little game in the Weeping Willows theme park.
The game is simple, figure out which twin is which. Are you smart enough to identify the two identical twins? Let's find out.

---
Cover Art: Funds were short and I didn't feel like it would be wise to commission someone to create a reference image of the twins, so I decided to try to create the cover art this time around. I know it doesn't look great, but oh well.

The image was also altered a bit by: Brony1337
Proofreader/Editor: Brony1337
Prereader: Viper Pit
I hope you all enjoy the story.

Chapters (1)