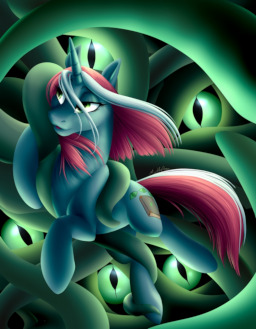 Source
This is NOT a clopfic. The sex tag is merely for suggestive content.
There are forces beyond the boundaries of our world, a fact that Roseate Grimsbane is fully aware of. A powerful unicorn witch, Roseate has to function as a teacher and citizen of the town of Muleport, while concealing the otherworldly powers given to her.
The fact that her husband is an Alien Intelligence from beyond the Fifth Veil, doesn't make this a simple task.
---
This is a Comment Driven Story, where you can speak to Roseate using an enchanted mirror, an eldritch artifact that allows for communication with those beyond the Fifth Veil (You), so feel free to ask her questions and perhaps even give her some advice when the time comes. But please keep it clean.
---
This story was edited with the help of: Rhawkas.
Preread/proofread by: TheDizzyDan (Ch.1-3) and Quillian Inkheart (Ch.5, onwards).
The new, AWESOME, piece of cover art was created by the amazing, MythPony, go check out her other artwork.

If you want to see more artwork of Roseate Grimsbane, feel free to follow this link to a deviantart folder containing a few images: Here.
Special thanks to Grim_Grin for creating numerous art pieces for my OC, Roseate Grimsbane.
Chapters (13)