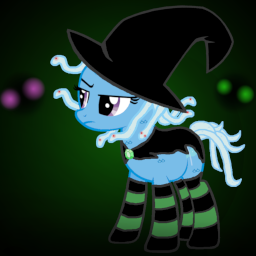 Source
Note on Sex Tag: This is merely for a few innuendos, no actual sex happens in the story.
Just a lovely Nightmare Night with Trixie and Filthy Rich sharing each other's company. Sure being a gorgony is difficult but the trick pony has grown used to it and so has her husband. However while the two of them try to enjoy the evening and relax, it would seem that a couple tricksters have other plans.
---
This story takes place in my little: Gorgony-Verse, so do keep that in mind while reading this.
It was also proofread and edited by: TheDizzyDan
While I used some prompts given to me in Nailah's Random Contest for December (the prompts being Trixie and Filthy Rich being paired together), I wanted to write something about gorgonies and thought it would be interesting if I turned Trixie into one.

I created the image using GIMP.
If you like the story please give it a thumbs up.
I hope you all enjoy.

Chapters (1)