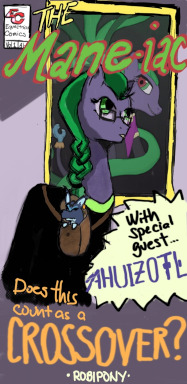 Source
Having finally found the Sapphire Stone and with Daring Do too busy dealing with Dr. Caballeron there is nothing that can stop Ahuizotl from his desire for power. With the Sapphire Stone in place, a portal opens allowing Ahuizotl to step through to achieve his goal... or does it. Perhaps what Ahuizotl finds on the other side isn't exactly what he was expecting.
Mable Mane also known in Maretropolis as the Mane-iac is out on parole. Now she must try to lay low and maybe try to earn an honest living, otherwise, she might be hauled off to prison again. However, things start looking up for Mable when she sees a portal open in the sky and a strange dog falls through.
---
In Regards to Story Completion Status
It was required by the contest creator that all stories be completed by the deadline. However, if you all really want me to expand upon this story/world I will be willing to do so after contest completion. Just give the story an upvote and leave a comment if there are enough upvotes (25+) by then, then I'll either just write a sequel or change the completion status on this story and write more chapters.
---
Pre-reader: sevenofeleven
Editor: LoneUnicornWriter (they have currently only edited the first and second chapter).

New Cover art made by: arcanelexicon.
You can find the original cover art: Here.
It's the story of two fictional villains (or are they) coming together to kick plot, chew bubble gum and perhaps find love. It is such a shame they are out of gum.
This story was written for the Unexpected Meeting Contest.
Originally I was going to pair Ahuizotl up with Sonata Dusk and have it take place in the Equestria Girls universe but after some thought I changed my mind.
The original "short" story was split into four chapters because the last time I released a story with such a long chapter, others said they were intimidated about how long it was. So now it is more manageable.
I hope you all enjoy it.

Chapters (4)