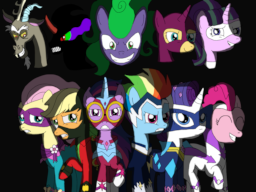 Source
A series of one-shots set in an alternate world where the Mane 6 are the Power Ponies. Follow the adventures of six superheroes and their dragon sidekick as they defend Maretropolis from dastardly evil-doers, including the Mane-iac, the Equalizer, the Phoenix, and the God of Chaos himself.
Cover art by fluttercord45
Origins: The head of a multibillion-bit company, an orphaned farm girl in the big city, an underappreciated archaeologist's assistant, an up-and-coming fashion designer searching for inspiration, a veterinarian taking anger management therapy, and a bored girl from a rock farm. A notorious act of evil will bring these unlikely allies together.
The Mane-Raising Joke: Dee Tangler takes her role as the owner of a multi-million-bit haircare product company way too far, resulting in a tragic accident at her shampoo factory that will change her life, as well as the Power Ponies', forever.
The Shadow King: A scientist strives to help a pony he loves with his research in shadow magic. Meanwhile, Fili-Second and Zapp question their worth as heroes.
The Sirens' Song: When three beautiful, singing mares become an overnight sensation, the Power Ponies team is divided, and it's up to those unimpressed with the singers' talent to save Maretropolis from their evil scheme.
Heart of Stone: Saddle Rager is experiencing strange dreams involving the statue of Discord at the Maretropolis Museum. Meanwhile, Zapp has noticed the statue has been cracking, and it gets worse and worse every single day...
Don't Cry After Sunset: Some pony from Twilight's past re-emerges, at the same time mysterious robberies are occurring by a master thief who leaves no evidence behind.
Longhorn's Journey Into Night: At long last, Mistress Mare-velous gets a lead in finding her parents' murderer and insists on pursuing him alone, but Humdrum won't allow it.
The Pharaoh's Curse: A new mummy arrives at the Maretropolis Museum of a said to be cursed pharaoh.
Should I Stay Or Should I Go?: Parallel chapter to "The Pharaoh's Curse," in which we see what Twilight and Applejack are up to while on vacation.
Chapters (32)