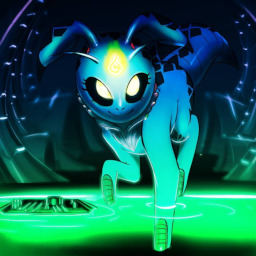 This story is a sequel to All Eyes on You...
---
When you were told you'd be helping Applejack try to catch an apple thief, you didn't think that you'd experience something so unexpected and out of this world. As a unicorn, you know all about magic and the wonders it can bring to Equestria, but what about the other side of progress; technology and the ones who bring it?
What will happen when you, a unicorn stallion come in contact with a being from another world?
---
Preread, proofread and edited by: Quillian Inkheart.
Cover Art by: marking.
You can find images of Haewara the alien pony, here and here.
The sex tag isn't for clop or any sex scenes. It is however there for a reason: dialogue about the potential reproduction between two different species.
---
Notes about Haewara... There will be spoilers:
I originally created Haewara as a character for another comment driven story idea I was working on. However the project didn't really get off the ground.

Later I decided to write a story where the reader meets an alien monster mare. I took the original design for Haewara, added a few things (mainly the prehensile tongue) and here we are.

While I only intended to show Haewara this once, if any of you are interested in seeing more stories with her, please let me know. Thank you.
Chapters (1)