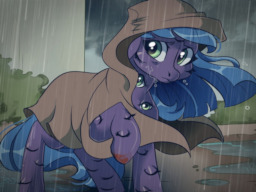 This story is a sequel to Is a Shark Mare's Bark Worse Than Her Bite?
---
You are a unicorn stallion who has recently returned to your home in the town of Ponyville, after your recent vacation. As you unpack from your journey you notice a strange mare out in the rain.
Feeling pity, you invite them into your home and learn that they aren't all that they seem.
---
Warning!: The information below may contain spoilers!
Another monster mare story for all of you. For those of you who are wondering, Irisa is an Argapony, her appearance is based off of Argus from Greek mythology. It's a monster mare/girl concept (aside from perhaps the Gazer Monster Girl, but that's based off of a Beholder), I haven't really seen explored, so I thought I would give it a try.
Just me, trying once more to fill in those monster mare niches.




This story was featured on FiMFiction, 7/17/19.



---
Preread by Quillian Inkheart and Nailah.
Edited by: Quillian Inkheart.
Proofread by: ShadowblazeCR.
The cover art was made by: pillowrabbit.
Here is an image of Irisa, created by miipack603.
Chapters (1)