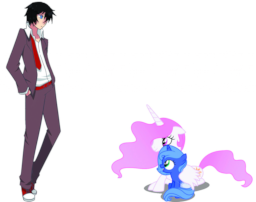 A human baby, weak and fragile, is found by queen Gaia, the ruler of Equestria.Together with king Solaris, the two adopt you as their son.
Join our little prince in his times of joy and in his times of strife. With friends by his side and his little sisters, our prince will understand that friendship is magic. For he is, after all, the elder brother.
Insipred loosley onThe monster of Canterlot and (very loosley on...) The love of the sun (can't add a link because it's against FimFiction rules, go figure)
A little something I wanted to share, hope you enjoy...
Chapters (17)