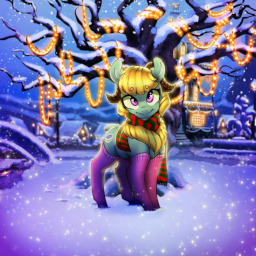 This story is a sequel to Which Head is Which?
---
You are a unicorn stallion, making preparations for a Hearth's Warming celebration with the Apple Family, when you come across an old acquaintance. As it would turn out your friend, Amble Barb is in Ponyville, visiting family and decides to invite you to come along.
What sort of holiday fun will you and Amble get into? Let's find out.
---
There is actually another story in the series, that was meant to be released before this one, however due to certain circumstances I had to save it for another time. Now that shouldn't affect the enjoyment of this story, but still I thought I would mention it. When I release that story, I will include a link to it here and vice versa. Sorry for the inconvenience.

Fortunately, if you have read my story, All Eyes on You, then you will know most of what is really necessary to know to enjoy this story... I think.
---
Cover Art by: marking.
Preread/proofread/edited by: Quillian Inkheart.
Feel free to join the Monster Mares group for more monster mare stories. Who knows what kind of monster mares you might find there.

Chapters (1)