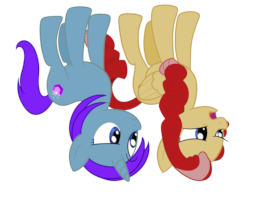 Amethyst Breeze and Ember are two detective mares who recently established a Private Investigator's office in Ponyville. Low on funds, the two mares take almost any job, so long as it pays. However, when things in Ponyville start getting turned upside down, literally, the two mares discover that they may have bitten off more than they can chew...
A collaboration between myself and TGM. Cover art by the amazing Photonicsoup. Now avaliable in re-edited technicolor glory courtesy of Royal Guard prereaders NightWolf289 and GaryOak and EqD prereader 63.546.
Special thanks to Derpator and RainbowBob for prereading! Cudos to FluttersIsShy for showing us off in Megamane! And millions of huggles to haru for the amazing Japanese translation! Check them all out! They're awesome and you won't regret it!
Chapters (5)