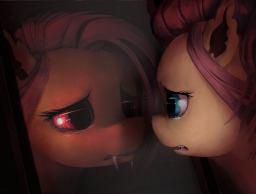 The war between Nightmare Moon and Princess Celestia has destroyed Equestria, leaving the few survivors to struggle to survive in a dying world of eternal twilight. Fluttershy, twisted by the war, now ekes out an existence in Everfree forest, but even that life is under threat. Twilight Sparkle is coming, leading the last army of Dawn, and she will let nothing stop her from retrieving the Elements of Harmony and saving the world; not even old friends.
---
First Place in the Equestria Daily More Most Dangerous Game contest

With thanks to Luna-tic Scientist, Lord Of Dorkness, Nopony_Important and Monanniverse for their help in bringing this story to completion. Cover art is credit to 5kmoe.
Chapters (2)