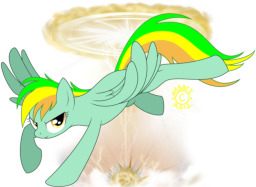 Source
Some would call it the end of ponykind.
Northern Lights was determined to make it otherwise.
Living in the shambles of what was once Equestria, the daughter of esteemed Wonderbolts Rainbow Dash and Spitfire is forced to spill her own blood daily to protect what remains of her race. Bandits roam, disease spreads, and horrifying beasts stalk the night. But a spark of hope is ignited when Ponyville's best tech genius discovers an unconventional use for unicorn magic- only to be extinguished when she dies mysteriously. But the fire's been started already, and now it's a race against time to discover the secrets of the G.E.N.E.S.I.S device and liberate ponykind... before they destroy themselves. And the one pony that holds the key, within her painful memories of her friends' deaths, is Northern Lights.
Chapters (2)