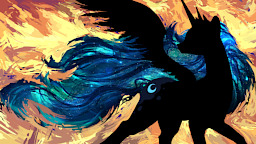 Source
Prophecy is a dangerous game; meanings which are obvious can become obscure in an instant, and fates are laid bare only in hindsight.
After the fall of Discord but before the rise of Nightmare Moon, a dragon breaks the peace between its race and ponykind, and Princess Luna flies to mete out justice.
Editing courtesy of the speedy, thorough, and unfailingly helpful Pascoite, whose assistance has proved invaluable once again.
Cover image by the astonishingly talented GenjiLim, used with permission.
Now in (breathtakingly excellent) audiobook form, courtesy of Illya Leonov and co.!
Chapters (1)