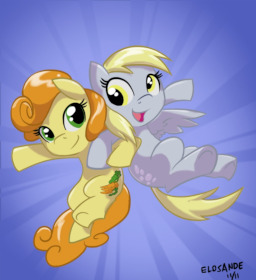 This is the story of a very ordinary pony's extraordinary day. Carrot Top and Derpy are good friends indeed, and sometimes friendship can lead to wonderful surprises. It can also lead to arguments, frustration, and general grumpiness, of course, and this story has all of those things as well. But mostly, this is a story about the day Carrot Top learned how to fly.
*****
Originally written for the Hearth's Warming Care Package contest. Many thanks to the contestants who commented on this story, to my EqD pre-reader, and especially to Sessalisk, for helping to polish this story to its present state. Cover art by the incomparable Elosande, used with permission.
Fanart here, courtesy of lalieri!
Audiobook here, courtesy of Deftfunk and Scribbler!
Now available in Spanish, courtesy of SPANIARD KIWI.
Chapters (1)