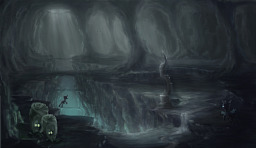 A series of notes sent to a young changeling in the field by her superior, and a glimpse into the minds of a race whose views on friendship and love are at once totally alien and disturbingly easy to recognize in ourselves and those around us.
*****
My extreme gratitude to Pascoite for going over this story with a fine-toothed comb, and for helping me make it what it is.
Cover art by the incredibly talented Nelvakre, used with permission.
Now available in Spanish, courtesy of SPANIARD KIWI.
Chapters (1)