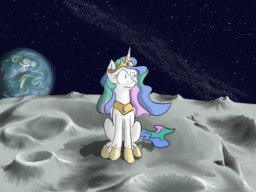 Source
When Princesses Celestia and Luna visit a public art gallery, they come upon a painting of Celestia, banished to the moon. They react to this in the only reasonable way: artistic criticism and analysis.
*****
Cover art by that paragon of good sportsmanship and all-around talented person, Rocket Lawn Chair.
Originally written for the Reversal of Fortune writeoff, with the cover art as the prompt. Thank you to everyone there for the pre-reading and advice, and to Pascoite for his (always invaluable) additional help and editing suggestions!
Chapters (1)