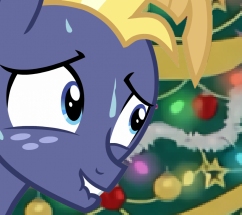 After going on Iron Will's Cruise of the Princesses, Star Tracker finds himself in the awkward position of being an honorary former member of the Sparkle family. Hearth's Warming is just around the corner, and gift-giving is tough when you're not even sure if the person you're buying for counts as a sister or a stranger. What's a colt to do?
Overthink it, of course.
*****
Written for 2018's Jinglemas!, as a Secret Santa gift for ChillyKitty.
Chapters (1)