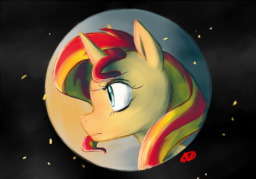 Source
A young Sunset Shimmer, spending her first Hearth's Warming in Canterlot as Princess Celestia's personal student, comes to the terrible realization that there's not going to be any snow for the holiday.
She decides to do something about it.
*****
A Hearth's Warming gift for DrakeyC.
Cover art courtesy of the wonderfully skilled RyuRedwings, used with permission.
Editing thanks to the incomparable and brilliant Pascoite.
Chapters (1)