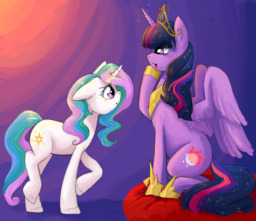 Source
Princess Celestia had a good day. Luna had been going out more often and was becoming quite fond of nightclubs, her dear niece Cadance had formally announced her pregnancy—though, privately, Celestia felt she was too young to be a great aunt—and, of course, Twilight, her beloved former student, had taken on her first student and Celestia couldn't be prouder! Yes, it had been a good day.
Celestia Sol woke up much like she did every day the morning: sun waking her as it danced upon her eye lids. Wait, the sun? Celestia's eyes snapped open to reveal she was in Twilight's old room in the observatory. On the other side of the room was a smaller bed where a small dusky unicorn was drooling on her pillow.
Clearly, it must be Tuesday.
Chapters (2)