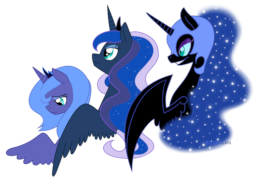 Source
I understand you wish to learn more about my dreamwalks, as well as what I did with my time on the Moon. Well, listen carefully when I say I do not entertain these types of inquiries lightly. My life and my work are my business alone, and no amount of sheer curiosity will get me to delve too deeply into them.
I also understand that you have been overthinking your actions, as evidenced by your performance, and that Celestia thinks I can help you. I'm not sure if you've met one Twilight Sparkle, but she usually handles these sorts of things. She must be busy.
I suppose I, of all ponies, would know a thing or two about spending too much time in one's own head, due to my rather famous imprisonment. I had it all, you see. Disrespect, loathing, nightmares. One nightmare in particular, actually... Yes... I suppose it's time I spoke of that night. I was not alone up there, you understand. I had my other half to keep me company. Sometimes, I would open my eyes and see her...
Well, perhaps you should pull up a seat.
---
Cover Art by: Zilkenian
Also available in audio form!
Also available in Spanish form!

Chapters (2)