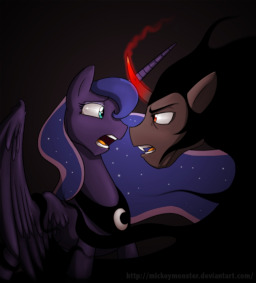 Source
Unsettling dreams are starting to worry Princess Luna. She is positive these dreams hold an ominous portent for all of Equestria, but there is only one stallion who knows for certain the answers she seeks. King Sombra has been imprisoned again in Shadow since his defeat and the shattering of his body, but he is no less cunning and ruthless. And as Luna tries to interrogate him over time, she finds there is a softer side to the unicorn king, one nopony has seen before. But Celestia fears for her younger sister, warning Luna against Sombra's advances. Is the once-tyrant truly starting to court Princess Luna...or is she simply being used as a pawn in his plans to regain power?
~~~
Cover art by the amazing MickeyMonster, who has permitted me use of it for this fanfiction, as this image inspired me to write this story in the first place.
Edited and proofread by my girls TheOneBehindYou and LabyrinthineMind.
8tracks playlist: https://8tracks.com/yoru-the-rogue/lingering-shadows
Chapters (12)