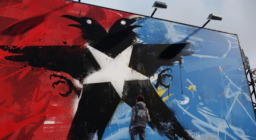 Nightshade was a special case. 10 years ago, he discovered that he held powers over smoke and embers, triggered after an accident that unlocked his Conduit genes. Genes he inherited from his ancestor, Delsin Rowe. After 10 years of practice, he has mastered the 'gifts' revealed to him as a mere child. Today, on his 18th birthday, he is on the train to Ponyville, to start a new life there and to continue his training. But he doesn't know of the other 'gifts' he inherited from his ancestor, nor of the new ones he'll get.
Get ready Equestria, cause the Heir of the Conduits is here, but will he be a True Hero or will he be Infamous?
Rating T for now, might change, depending on how the story goes, if starts getting more.....Intense in a way, then it will change.
I don't own anything, except Nightshade
Chapters (16)