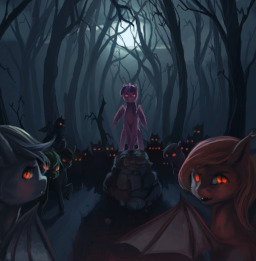 Source
King Sombra came from an old age, a time where darkness and evil were prevalent across the land. The Princesse's power and influence were weaker in those days, for the land of Equestria was divided amongst many kingdoms of lesser Princesses and Princes. But out of all their ruling neighbors, The Four Shepherds held the most power of all, even threatening Celestia and Luna's kingdom. However, all of that changed when they vanished for a thousand years, ushering in a new era of peace and prosperity. Until that is, when the Crystal Kingdom reappeared, along with one of the Shepherds. King Sombra, however, was thankfully vanquished swiftly, but the following peace of his defeat would not last as long as anypony might think. A new force sets its eyes on the recently coronated Princess Twilight Sparkle, one that seeks to restore a lost heritage and remind the land of who is the true owner of the night. For when one evil is smitten, another appears in its place. And King Sombra was only the first in line.
Set before Season 4
Note: Dark tag is meant for Light Dark
Special thanks to my editor Ladrian for his diligent and superb work. I wish I had him when I first started this story because maybe then the early chapters would have been much better.
Special thanks to Stanku for revisions and prereading this story. It would be at a much worse state had it not been for his detailed opinions to each and every chapter, and letting me know where I can improve.
10/2/2014 : Woah... it's on the featured list... *cue squealing and fist pumping* THANK YOU ALL SO MUCH!
Chapters (55)