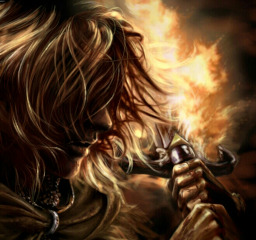 Edited by: Arcanist Ascendant
The connections between worlds are tenuous at best, and some of the "simple" truths we clutch so frantically to are little better than drift wood on the endless sea of possibility. The young knight Morenth knows this better than most.
Having reached the pinnacle of his order, he has achieved the title of Paladin. As a slayer of all that is evil and unnatural one would think his faith indestructible, but Morenth harbors doubts.
Desperately, he throws himself into battle after battle, seeking to blind himself to the truth of his world. The truth that no matter how much light he brings to bear against the darkness, the struggle between good and evil will never be won.
Meanwhile, the unicorn prodigy, Twilight Sparkle's faith couldn't be stronger.
With the teachings of her mentor and the help of her friends, she has overcome even the darkness of King Sombra. Restoring peace not only to Equestria, but to the Crystal Empire as well.
During her adventure she was forced to use a form of magic she'd only seen her teacher use once. Magic Celestia could never have guessed Twilight would have to use.
Dark magic.
Curious as to how far she can take this new power, she runs afoul and finds herself in a world that truly reflects the nature of this new magic.
Chapters (25)