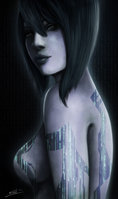 Source
Warning: Their are SPOILERS for Halo 4 in this story. READ AT YOUR OWN DISCRETION.
Halo 4 is owned by 343 Industries and Microsoft. My Little Pony: Friendship is Magic is owned by Hasbro.
The Didact was stopped and the Composer destroyed, but at what cost. Master Chief (Chief or John) would have given his own life for the human race, but in an act of valor Cortana sacrificed her last remnants to save John. Now with no AI. and no friend with him, he floats towards an unknown planet which looks like paradise. Soon he learn that friendship is already following him through fate, but will he accept?
Art by tr1gg3r117 on Deviantart.
Lines from Halo are used in this story. Don't hate! Just using something from the game.
Chapters (8)