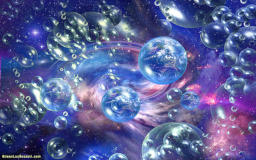 Well, I was shot. I was shot when I pushed my best and only friend out of the way of a murderous student's gun. And because I was shot, I gained the powers of a god. I became the Cosmic King, the ruler of the multiverse. But because I couldn't control my powers, I split myself up, sending each version of myself to a different universe. One of those happened to be Equestria.
Now, I'm a god surrounded by a science crazy pony who wants nothing more than to break every law trying to understand me, the student-turned-god that shot me and wants revenge for me beating him up, my power hungry predecessor, an evil organization that wants my power to take over the world, a robot version of myself with all my powers and access to each of my weaknesses, and chimeras that constantly attack me.
Well, my name's Connor, and I'm the Cosmic King, and if any of those monsters think they can harm this universe, they have another thing coming.
Chapters (57)