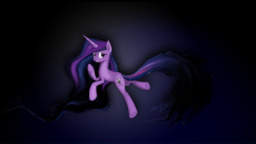 Source
Part 1 of the Shadow Trilogy
As Twilight Sparkle enters her third year amongst her friends in Ponyville, she finds herself plagued with strange dreams of an unknown power whispering dark secrets to her. The voices speak of Power, of the strength to protect what she holds most dear, of the great knowledge she could attain, such that no force could ever threaten her lands, or her friends, ever again.
Though she shrinks from this voice, the lure of greater knowledge, of magical power far beyond what she currently knows is enticing and alluring to her, eating away at her resolve even as the lack of rest begins to wear her physical defenses down.
What is this voice, and what does it plan for the most faithful student in Equestria?
Note: Events diverge from canon following the events of "Games Ponies Play"
Part 2 - The Twilight Fall
Part 3 - The Twilight War
Links removed in compliance with Fimfiction policies
Chapters (16)