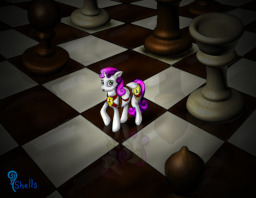 Source
This story is a sequel to Lines and Webs
---
For four long years, Celestia's apprentice Twilight Sparkle, once a model pony and a hero among heroes, has waged a bitter and secret struggle with her onetime mentor. Though she works from the shadows, directing her forces from the Old Capitol in the Everfree Forest, Twilight Sparkle is unable to gain any advantage,
Likewise, Princess Celestia finds her once-faithful student far more cunning and elusive than she had anticipated, and even now searches for a way to bring Twilight Sparkle's rebellion to its knees.
It is a game of greys, of knives in the dark and of poisoned wine, where pawns are moved and traded and exchanged for greater advantage, all the while drawing both sides nearer to the conflict which shall tear Equestria in two.
At the center of this conflict is a new pawn, one who only wished to see the truth for herself. Drawn into a deadly game whose rules she does not understand, Sweetie Belle must learn to survive in a world where all is darkened, and nopony can be completely trusted.
Because when gods play chess, all pieces are expendable.
A nation will crumble, old enemies shall return in the most unexpected ways, and regardless of who is victorious, only one thing can be certain.
Nothing shall ever be the same.
Followed by Stormsinger.
Chapters (62)