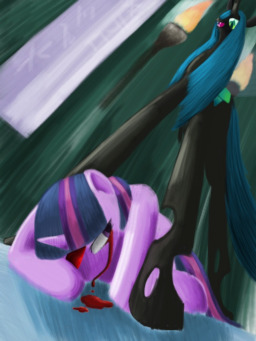 Source
Years have past since the changelings were driven away from Equestria, giving room for peace and love. Suddenly, Twilight is captured in the middle of the night, and is brought to the hooves of Queen Chrysalis. Seeing that she has captured the element of magic, she is determined to gain her revenge against both Twilight and anyone that has ever wronged her.
Using her dark magic, the queen transforms the unicorn into a horrifying creature. Will Twilight hold on to her sanity, and more importantly, her devotion to friends?
Or will she slip into the darkness, and lose all hope.
Props to chaos2012 for bringing me this idea. The story is mine though
Evilpresident is also onboard as a Pre-reader.
Okay, new cover art! This time it was actually made for the fic, so credit goes to BronyInvestigator
I cannot thank him enough.
Chapters (16)