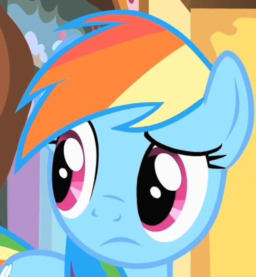 Have you ever felt that you're the only pony is all of Equestria who was struggling, with problems that nopony else could ever possibly comprehend? You're not alone.
Driven to be perfect to impress her friends, Rainbow Dash finds herself turning to extreme methods to keep herself looking good and in top shape. However, her friends become concerned when the heart-wrenching effects of her behavior become easily noticeable to them.
Color me Rainbow is an ambitious tale that brings a common problem many people face in real life, into the world of Equestria. Named after the real-life novel, Color Me Invisible, Color me Rainbow explores the devastating effects of eating disorders in a society where one would think that such things should not exist.
Fanmade music video by Fictionland: http://www.youtube.com/watch?v=CvwUc9VQYr4& Courage - Superchick
Chapters (4)