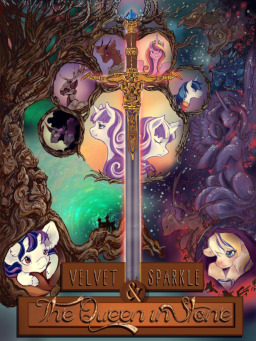 Source
Velvet Sparkle and her family are relaxing away from the hustle and intrigue of Canterlot, when her foster grand-foal falls ill. To help pass the time and comfort the filly, Velvet recounts the story of her younger years. It is a tale filled with loss and heart-ache, vengeance and redemption, hatred and love, and a small filly, lost in a land vastly different from Equestria, that just wanted to go home. A tale whose origins were formed before the founding of Equestria itself, and the struggle that birthed the great nation.
It is the story of how Velvet Sparkle met the Queen in Stone.
A Myths and Birthrights side story.
Edited by Honey Mead
Art by Companda
Chapters (16)