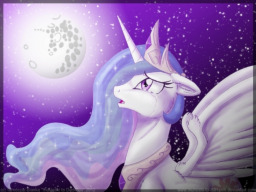 Source
Everypony has one 'Longest Night', a night that just never seems to end, whether they want it to end or not. For Celestia, her Longest Night began on the first night she had to raise her sister's moon.
Heartbroken and filled with despair that she may never see her sister again, Celestia makes a wish upon a falling star to see her sister one more time. Little did she realise that the stars listen.
A one-shot story of two sisters, and one Faithful Student.
Side-quel: Myths and Birthrights
Partially inspired by Ponyphonics amazing song 'Lullaby for a Princess'.
Cover art used with permission by InuHoshi-to-DarkPen.
Special thanks to Honey Mead and Iroh for helping iron out some details.
Chapters (1)