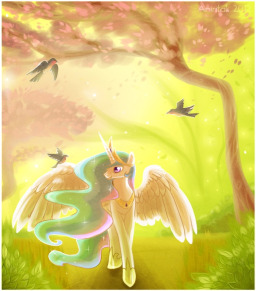 Source
Alternate Universe
Slice of Life
---
This story is a sequel to
A Tale of the Sun, Moon, and Stars
---
It has been almost a century since Twilight and her friends had discovered their destiny, and Celestia has been wracked with constant regret over the fate she has condemned her friends to. Now Luna looks to those very ponies to help Celestia smile again.
Celestia's story, and a sequel to A Tale of the Sun, Moon, and Stars.
Featured on Equestria Daily!
Cover art by the amazing Aniritak