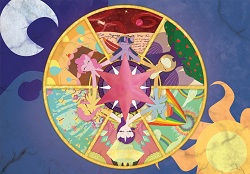 Source
Three divine sisters, The Sun, Moon, and Stars, have reigned over the heavens and earth since time immemorial. This is a tale of their greatest hardships and triumphs as challenges unforeseen seek to ruin the world they have created for their beloved ponies.
Featured on Equestria Daily!
Cover art provided by the talented NoOneBahtim.
Chapters (1)