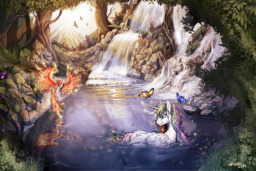 Source
Twilight takes a walk in the woods near Canterlot to clear her mind, when a mischievous little phoenix starts dropping chestnut shells on her head. Quite a familiar mischievous little phoenix.
Somewhat inspired by the song "Evermore" by Alison Krauss, a story to perhaps make its reader smile.
Thanks go to Skywriter, GhostOfHeraclitus, and "Nettle" for pre-reading; and Ziom05 of deviantART for permission to use "Sun Springs" as the cover art.
Chapters (1)