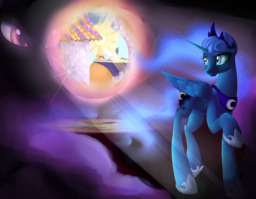 Source
This story is a sequel to A Tale of the Sun, Moon, and Stars
---
The Moon has fallen, reduced to mere shadow of herself after the Nightmare claimed her. With only fragments of herself left, the Moon must find a way to stop the Nightmare, and escape from her lunar prison. Thankfully she won't have to do it alone.
Luna's story, and the final sequel to A Tale of the Sun, Moon, and Stars.
Pre-Readers: Bok, xXWeed_Princess420Xx, Void Chicken
Cover art "Luna Descends" by LeLittleLuna.
Chapters (2)