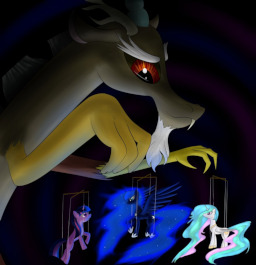 Source
To commemorate the imprisoning of Discord one year ago, the first annual Celebration of Harmony is starting off with a grand party in Canterlot, something Twilight Sparkle has been looking forward to after many sleepless nights plagued by nightmares. After a chance glance at the party, Twilight and Princess Luna rekindle their friendship sparked on Nightmare Night. Meanwhile, Princess Celestia grows worried over the state of her kingdom, her sister disappearing at odd times, and the seal placed on Discord. Are the princess's worries well founded or is her sister's oddly secretive behavior taking a toll on her nerves? Twilight gets caught between the sun and moon as both royal ponies reveal that there is much that history has forgotten about the nature of the alicorns and even the draconequus.
AU for not taking into account Season 3 canon.
Amazing cover art by Sai, check the image source for more of his great work!
Chapters (42)