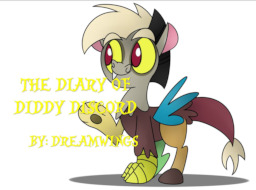 Source
'My Daddy told me to write this story you know?...My Daddy's great.'
Many years after Discord was defeated we look back into what his life was like growing up through his own eyes, how he came to be such a monster, and how he saw the world right from the begining.
Other stories in the history archives:
The Legend of Alicorn
A Slice of ol' Waddle's Life
The Journals of Silas Sombra
A big thanks to Enderstorm for doing the new amazing artwork for Diddy. Cute isn't he?
Just to say that Diddy means small. It seemed to be a word some people didn't understand but that's what it means.
A big Thankyou to Tricondon who thus far has pre-read every one of the diary entries
Chapters (41)