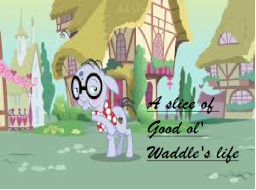 Source
I'm not a memerable face-- just one seen often at funeral's and on the street with my bow-tie by my side-- but my, don't I have some great stories to tell. Gather round young'un's and hear all 'bout my adventures with my friends and family: Smithie, Tad, Dolittle, and of course your friendly neighbourhood Waddy. It's sure to be one good slice of life ride-- and maybe a slice of pie too eh?
Other stories in the history archives:
The Diary of Diddy Discord
The Legend of Alicorn
The Journals of Silas Sombra
First story-- Waddle you do about it?-- it's not meant to be a brilliant mystery-- but if you want a mystery later you can ask for it? The first slice of ol' Waddle's life.
Chapters (1)